Unmatched Conversion. Made Easy.
Deliver on the promise of attribution. Transform event collection from a source of stress to a strategic advantage. Improve ROAS by up to 25%.
Get Started
Unlock the power of 1st-party customer data.
Fueled is the easiest, most reliable tool for collecting and organizing 1st-party eCommerce customer data across the sales and marketing tools you love. Shopify, BigCommerce, Yotpo, Gorgias...We capture data from all of these channels, so that you can use it wherever and how ever you want.






No Code
Turn on Fueled to connect your eCommerce stack to hundreds of marketing automation and BI tools. No custom code required.
Concierge Onboarding
Get in touch with us and we will get you set up on Fueled right away. Our average time to launch is just 2 business days.
Instant Optimization
Immediately surface patterns in your marketing and sales data for seamless, targeted customer engagement.
New Tactics
With connected data, sprint to embrace new strategies & tactics. Run better marketing campaigns. Target your customers more precisely.
Why should you care about 1st-party data?
The days of setting 3rd-party pixels and tracking scripts on your eCommerce website, giving away your data to Facebook and Google, and just hoping that they send you leads and sales are over.
These channels aren't going away, but the DTC brands that will be most successful moving forward will be those that own and operationalize their own data to drive revenue and improve business efficiency.
Learn more
Ready to take back the value of your first-party data?
Get started with Fueled today.
•

Launch world-class 1st-party data strategies and tactics in 20% of the time required to implement conventional CDPs.

•

Understand what really matters for your customers.

•

Build customer experiences that delight your audience.

•

Find efficiencies in your marketing and operational practice.
Get Started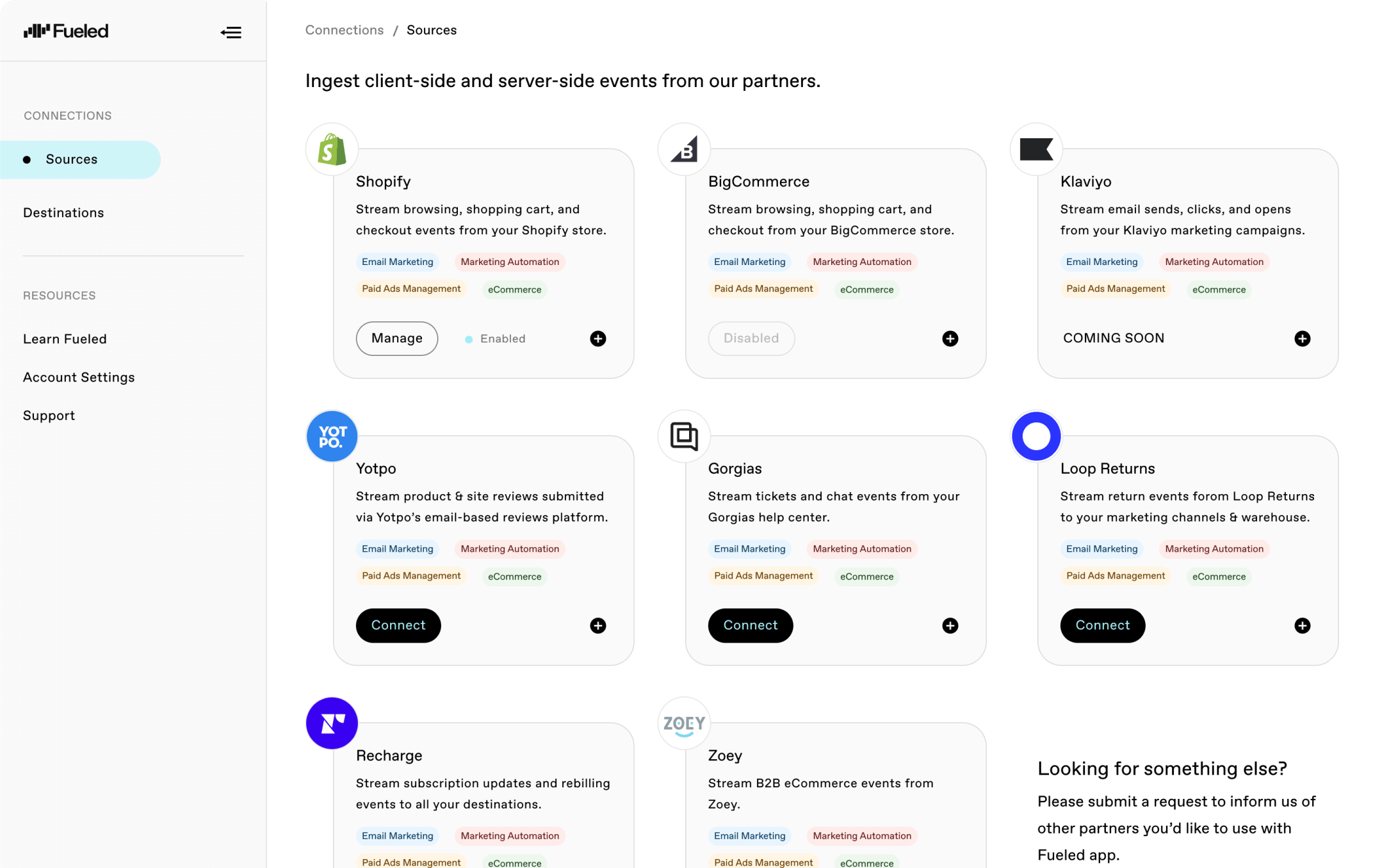 "A must have app to make your transition to GA4 seamless. Incredibly fast to install and we were instantly tracking GA4 events on our Shopify store. Accuracy in data is important and this app gives us the confidence in knowing that the customer reports we build will help us make the best decisions in the future."
Want product news and updates?
Sign up for our newsletter to stay up to date.