New
Fueled's Advanced Attribution Suite
for Shopify
Why use Fueled with Shopify?
Fueled's Advanced Attribution Suite leverages a 1st-party pixel and server-side events to collect the most comprehensive and reliable attribution data available in Shopify.
With ad blockers becoming more and more prevalent, it is critical that Shopify brands start tracking purchase events through 1st-party pixels and server-side technologies. This setup can be complex and expensive with other apps. But not with Fueled. Within 10 minutes of installing our app, you can be reliably tracking your most important attribution events with cutting-edge technologies — without writing any code.
Start collecting data in GA4 — before Universal Analytics sunsets.
Did you know that Google's Universal Analytics suite is being sunset in 2023? And there's no migration path for your Universal Analytics data.
Don't get caught flatfooted. With either our free app, or our Advanced Attribution Suite, you can start collecting attribution data in Google Analytics 4 now, before the mandatory cutover from Universal Analytics. With our app, this migration is easy. Start pushing Shopify data into Google Analytics 4 in minutes.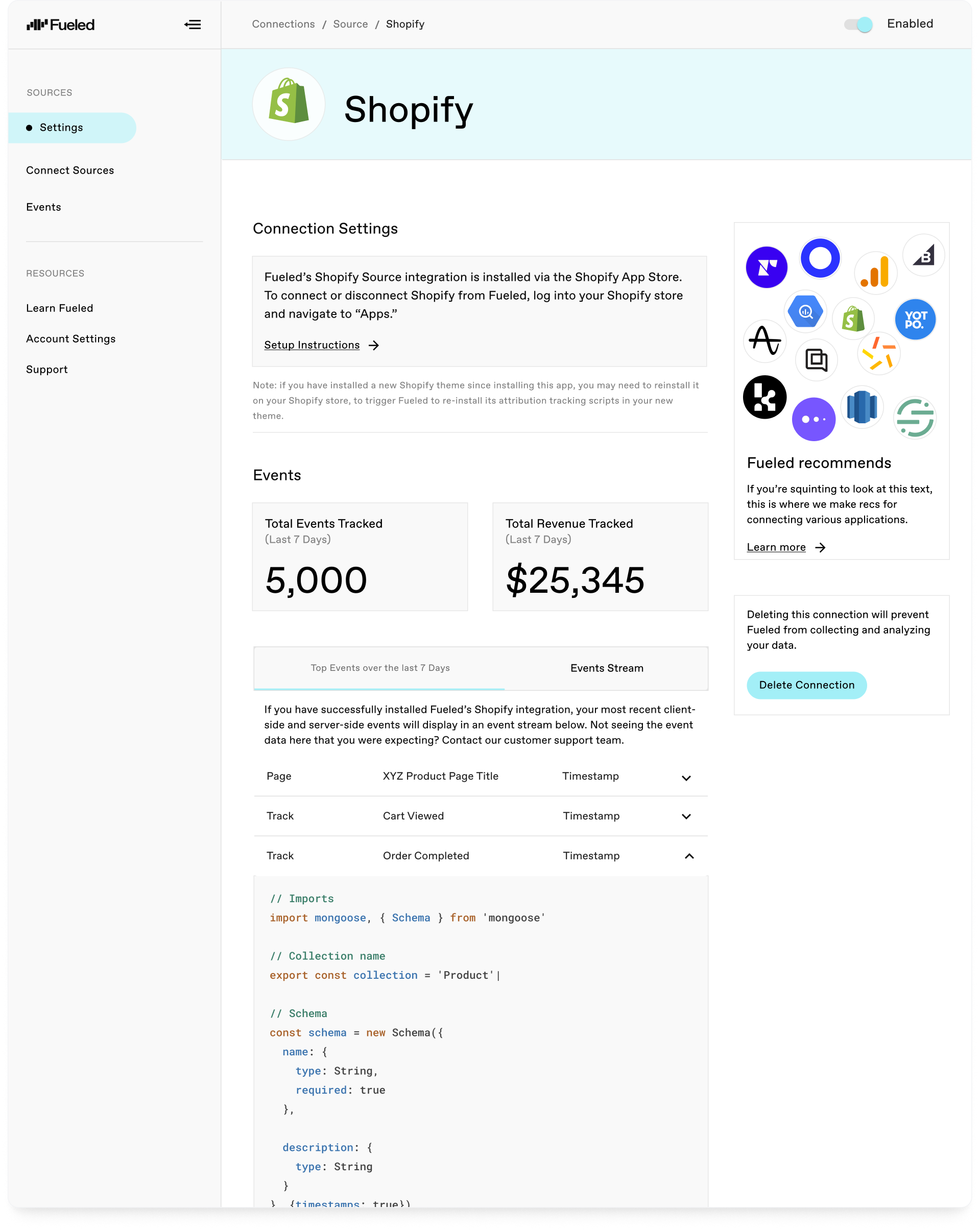 The Benefits of Shopify + GA4
Google Analytcs 4 presents many benefits over Universal Analytics. Start taking advantage of these features for your Shopify store now!
Cross-Channel Analytics
Unlike Universal Analytics, Google Analytics 4 allows you to track customer engagement across all of your channels, including "offline" events like customer reviews and support requests.
AI-Powered Attribution Modeling
Google Analytics 4 includes machine-learning algorithms and powerful AI for more complete attribution tracking, identity resolution, and modeling.
Power Google Ads With Advanced Segmentation
With Google Analytics 4, you can build powerful customer segments based upon rich event data. Use these segments to power precise Google Ad targeting to reduce CAC and improve acquisition.
Get Started Today!
We offer two solutions for Google Analytics 4 Integration. A free, self-service app for tracking Shopify attribution events. Or, a paid app for multi-channel attribution tracking across all your customer touchpoints.
GA4 Connector for Shopify
$14.99/month with two weeks free.
For small businesses and DIY Shopify store owners.
No coding required.

10-minute installation.

Track point-of-sale and other "offline events".

Respect your customers' privacy consent.

Fully extendable.

Integrates with POS, ReCharge Payments, Skio, and CartHook.
Advanced GA4 Connector for Shopify
Most popular
$249/month with two weeks free.
Everything in our standard GA4 Connector, plus:
An advanced 1st-party pixel, hosted on your website domain.

Concierge Onboarding (We do all the work).

An hour of one-on-one Google Analytics 4 training.

Stream your attribution events into Segment.com.

Prioritized customer support.
Ready to take back the value of your first-party data?
Get started with Fueled today.
•

Launch world-class 1st-party data strategies and tactics in 20% of the time required to implement conventional CDPs.

•

Understand what really matters for your customers.

•

Build customer experiences that delight your audience.

•

Find efficiencies in your marketing and operational practice.
Get Started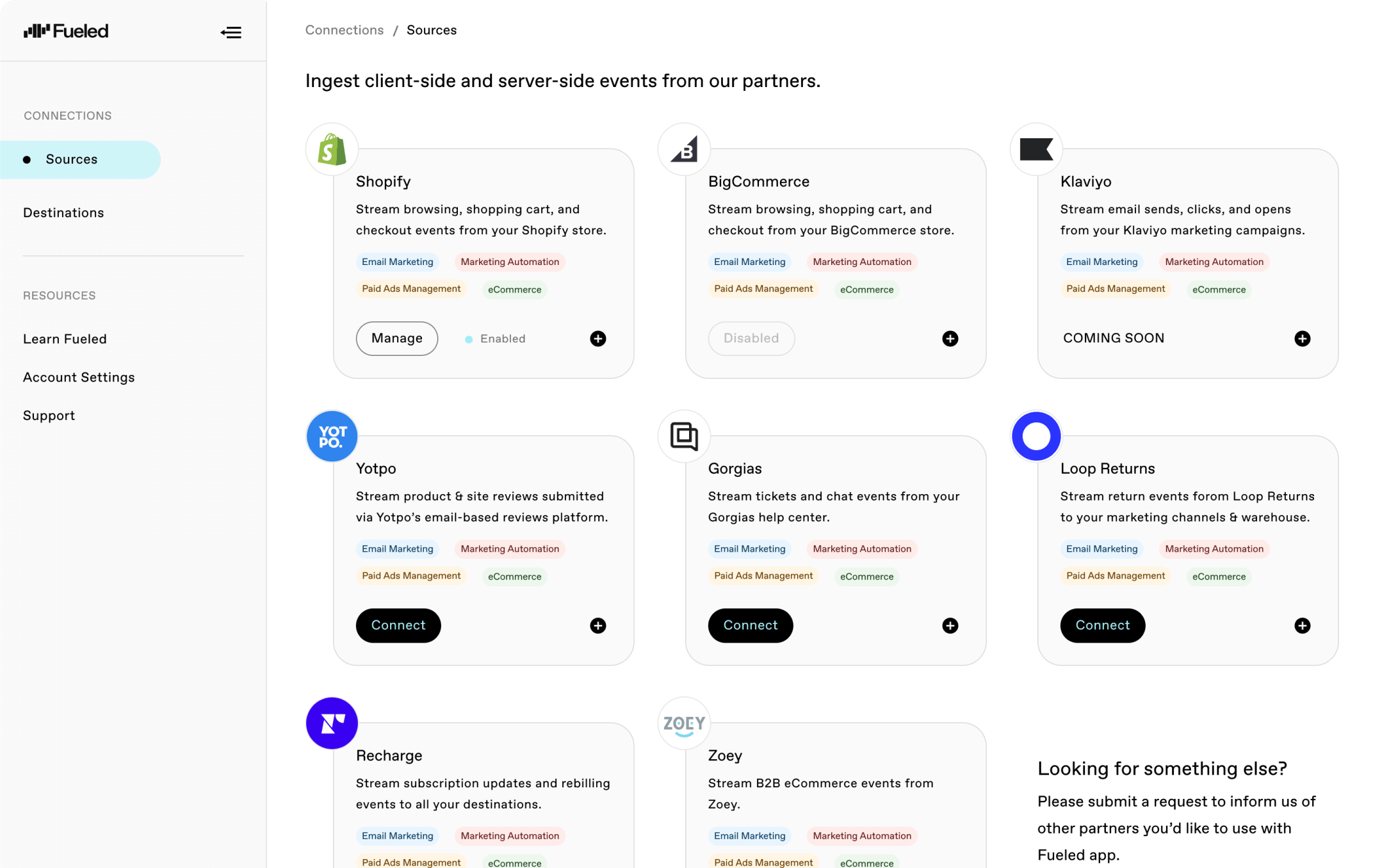 Want product news and updates?
Sign up for our newsletter to stay up to date.